Time to Catch Momentum for your Business
Book A Discovery Call Today!
Here is the free 40 minute Q&A video.
I can't wait to hear where you are in your course creation journey!
$10,000 for 300 minutes of content in ONE DAY? No Way! WAY!
$10,000 for 300 minutes of Content Creation in One Day!
Fully equipped television/sound studio
Professional video and audio staff
Professional hair, makeup, and fashion stylists on site to pamper talent
Relaxed, chill and creative set vibe
Clean, plant based options for farm to table meals
Consierge services from touch down to lift off
Complete content delivery by end of day
Book a Discovery Call to see if you qualify
Book a No obligation 30 minute Discovery Call
Not everyone is qualified to take advantage of the 300 minutes for $10,000 in One Day. The 30 minute discovery call will see if you qualify to take advantage of this $300,000 value offer. We are only holding 5 studio dates at this rate. After the 5 are booked the rate will increase.
The simple discovery call will get you to content creation momentum faster so you an get your course out sooner.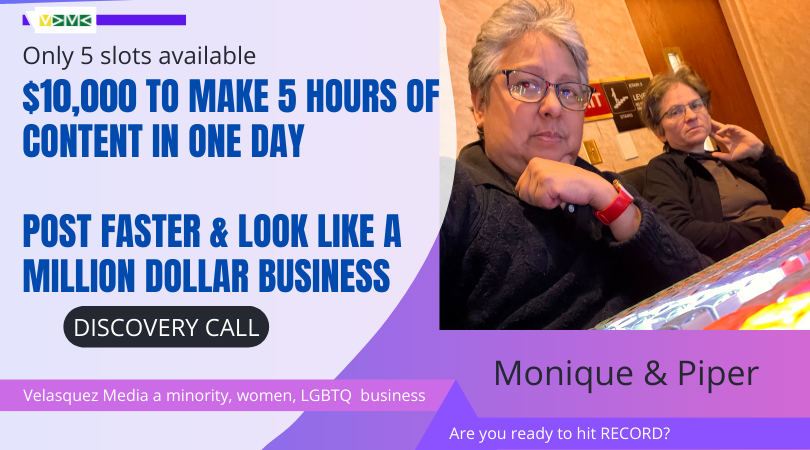 As a thank you, here are more TIPS to immediately make an impact in your content.
Your website should have at least one professional video. It can be a testimonial, video business card, mission statement or an explainer video. Smart phone videos are not your best look.
Video names should be catchy and descriptive. Like "How to hire a video crew like a pro and achieve a wicked ROI"
Always listen to the sound while recording. Mics have a way of slipping down, being stuck, picking up the leaf blower or introducing mystery noise.